English Language Congregation - Performance Arts Ministry
---
The Performance Arts Ministry or PAM as it is called now, was before known as the Drama Ministry.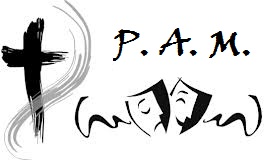 Rationale:
It is felt that the scope of activities of this ministry go beyond 'drama' and would necessarily involve other components of performance arts – as has been evidenced by the ministry's past activities.


Vision statement:
The aim of the Performance Arts Ministry is to inspire, challenge, provoke and entertain.
Inspire: inspire the audience towards godly thoughts (since it's the audience's mind that we want to address).
Challenge: challenge the relevance of worldly/ established value systems or world views.
Provoke: provoke the audience to take brave steps forward in righteous/ holy living.
Entertain: each production must deliver on entertainment value and engage the audience's attention.
Communication focus:
The Performance Arts Ministry will communicate scriptural truths and demonstrate its relevance to the contemporary audience. It will do so through the below activities.
Activities:
Full-length drama
One act plays
Skits
Video presentation: short skits
Dramatised scripture reading
Dance-drama (not to be confused with the Dance Ministry. This will primarily involve story telling through dance)
Workshops.
Story-telling sessions
Ministry focus:
The Performance Arts Ministry recognises that being a ministry, its chief role is to support the church and its leadership in building the Body and in equipping the saints towards holiness. Its focus areas will be:
Worship: PAM regards itself as an extension of the worship ministry because its function is to draw the audience towards a greater appreciation and understanding of God's word and purpose. We want the audience to be in awe of who God is, what His word teaches us, and what living for Him is all about.
Fellowship: Performance arts whether it is drama or dance demand many hours of rehearsals and preparations that will allow members to work closely together, learn from each other, and grow together. We hope to use this opportunity for building friendships, knit hearts together in fellowship, and to enable us to be there for each other.
Evangelism: By its very nature, performance arts has a way of engaging with an external audience and can be an effective tool in communicating with non-believers and in presenting the gospel in a less threatening way. Hence, the evangelism focus will remain one of the primary focal points of this ministry and we will seek opportunities to perform for 'outsiders' and look for creative options in terms of venue.
Meetings:
Initially we would like to meet twice a month at the Fellowship Hall or at the Multipurpose Hall. The meetings will involve readings and rehearsals for whatever we are planning to produce during the service. The initial idea would be to focus on having short skits during the Sunday and Friday service… initially once a month for the next six months, and as things improve, hopefully, increase that number. It will also be a good idea to have two big productions in a year.